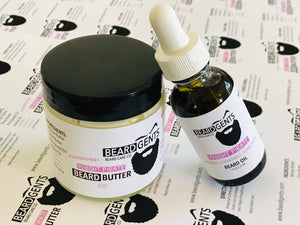 Knight Pirate has a sweet, earthy, exotic floral scent blended with lavender, chamomile and ylang ylang.  It's calming, sedative quality is known to promote rest and relaxation.
This formula is infused with all natural quality ingredients such as Hempseed Oil and Jojoba Oil. No other beard oil protects your beard and skin, promotes deep sleep, and stimulates growth like the Knight Pirate!
Our Knight Pirate air-whipped beard butter will serve as a deep conditioner and a decadent moisturizer that softens, smooths and hydrates both your beard and skin.
Made with a unique combination of organic raw mango butter, and organic unrefined shea butter. For best results, use Knight Pirate oil and butter as a deep conditioning treatment overnight.
Size: 1oz Beard Oil, 4oz Beard Butter
Directions: (Oil) Drop the desired amount of oil into palm. Apply to beard and skin. (Butter) Scrape out a dime sized amount of butter and rub between palms. Run your fingers through your beard. Apply before bed.
Safety Note: Test on skin for allergies. If irritation occurs, discontinue use immediately.