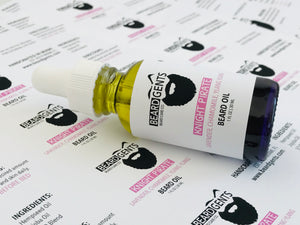 We felt inspired to create a calming bedtime recipe which features a blend of soothing Lavender, Chamomile and Ylang Ylang essential oils. This blend has a sweet, exotic floral scent. It's calming, sedative quality is known to promote rest and relaxation.

This beard oil formula is infused with all natural quality ingredients such as Hempseed Oil and Jojoba Oil. Hempseed Oil contains a wide range of nutrients which will promote fast-acting beard growth. Jojoba Oil is a humectant ingredient, meaning it works to seal your skin with a protective barrier to keep in moisture.

No other beard oil protects your beard and skin, promotes deep sleep, and stimulates growth like the Knight Pirate!
Blend: EO/FO (Essential & Fragrance Oils)
Scent Duration: 8+ Hours
Strength: Medium

Size: 1oz Bottle
Directions: Drop the desired amount of oil into palm. Apply to beard and skin before bed time.
Safety Note: Test on skin for allergies. If irritation occurs, discontinue use immediately.