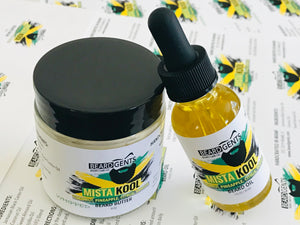 Leave your worries behind and take an exotic journey with Mista Kool, a tropical blend of creamy coconut, juicy pineapple, sweet citrus, and warm vanilla. Artfully blended and infused with the finest carrier oils – Jamaican Black Castor Oil, Coconut Oil, Sweet Almond Oil, and Jojoba Oil.
Mista Kool air-whipped beard butter will serve as a deep conditioner and a decadent moisturizer that softens, smooths and hydrates both your beard and skin.
Made with a unique combination of organic raw mango butter, and organic unrefined shea butter. Our butter is light, creamy and easily absorbs into the skin.
Size: 1oz Beard Oil, 4oz Beard Butter
Directions: Scrape out a dime sized amount of butter and rub between palms. Run your fingers through your beard.
Safety Note: Test on skin for allergies. If irritation occurs, discontinue use immediately.