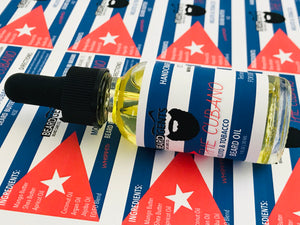 We are proud to present our second Culture Classic, an original creation that draws its inspiration from the city of Miami and the unique and vibrant Cuban culture.

The Cubano is a Mojito and Tobacco blend, fusing notes of fresh mint with tropical undertones of citrus and fresh tobacco. This recipe is unique, vibrant, and masterfully blended with four amazing carrier oils that blend together to create a powerhouse of rich nutrients, which includes - Apricot oil, Coconut oil, Argan oil, and Jojoba oil.
The Cubano captures the essence of Miami life and the unique and vibrant Cuban culture.
Blend: EO/FO (Essential & Fragrance Oils)
Scent Duration: 8+ Hours
Strength: Medium 
Size: 1oz Bottle
Directions: Drop the desired amount of oil into palm. Apply to beard and skin.
Safety Note: Test on skin for allergies. If irritation occurs, discontinue use immediately.