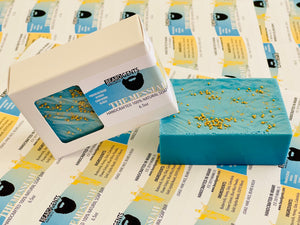 Following the success and popularity of The Messiah we were inspired to create The Messiah soap bar! The Messiah is a specialty formula and the only product in our collection that features our gold bursting Jojoba oil beads for exfoliating purposes.
This divine creation will uplift your spirits with the whispering notes of Frankincense and Myrrh while notes of Cashmere and Suede will soothe your soul.
We take exfoliating seriously here at Beard Gents! It's why The Messiah was created with gold bursting Jojoba oil beads!! Regular exfoliation will not only make the skin under your beard feel more comfortable and less itchy it also encourages the hair to grow.

The Messiah has a beautiful smell, and it creates a vividly spiritual atmosphere. It smells like hope, promise, potential, joy, and the prospect of a better world in which compassion and loving kindness is the norm.

All of our all-natural, handcrafted soap bars can be used on your hair, face, beard and body. Designed for Men, Women and Children.
Size: 6.5oz Bar

Bar Depth: 1.25"   Bar Length: 2.5"   Bar Width: 3.5"
Ingredients: Baby Buttermilk, Honey, Oatmeal, Calendula Flower Extract, Blue Mica Powder, Gold Jojoba Beads, EO/FO Blend (Essential/Fragrance)
Directions: Massage your wet beard, face and body with this bar until a creamy lather is produced. Work the lather thoroughly into the beard and skin. Rinse and enjoy.

Safety Note: Test on skin for allergies. If irritation occurs, discontinue use immediately.