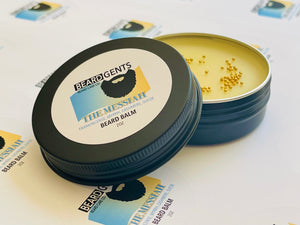 The Messiah beard balm is a hot-poured, nutrient rich blend that will moisturize, condition, style and soften your beard. Handcrafted using an all-natural blend of heavenly ingredients including shea butter combined with all-natural beeswax from happy bees.
This divine blend contains two stellar carrier oils, which are both luxurious - Baobab oil and Jojoba oil, along with Gold Jojoba filled beads that sit on the balms surface.
The Messiah will uplift your spirits with the whispering notes of Frankincense and Myrrh while notes of Cashmere and Suede will soothe your soul.
Size: 2oz Tin

Directions: Scrape out a dime sized amount of balm and rub between palms. Run your fingers through your beard and style.

Safety Note: Test on skin for allergies. If irritation occurs, discontinue use immediately.