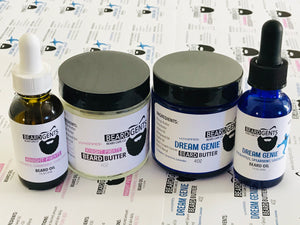 Both of our bedtime formulas bundled together! This bundle includes both our Knight Pirate combo and our Dream Genie combo!

Knight Pirate has a sweet, earthy, exotic floral scent blended with lavender, chamomile and ylang ylang.  It's calming, sedative quality is known to promote rest and relaxation. This formula is infused with all natural quality ingredients such as Hempseed Oil and Jojoba Oil.
Dream Genie is more then just a sleep aid, but this formula is also a nighttime beard treatment formula. Masterfully blended with three amazing carrier oils: Jojoba oil, Hempseed oil, Castor oil, and Biotin Growth Serum, which will assist with beard growth, improving overall beard quality, including thickness and shine. Dream Genie has an invigorating combination of airway-clearing eucalyptus, mood-boosting spearmint, and lusciously-relaxing lavender.

Size: 1oz Knight Pirate Oil
1oz Dream Genie Oil
4oz Knight Pirate Beard Butter
4oz Dream Genie Beard Butter
Directions: (Oil) Drop the desired amount of oil into palm. Apply to beard and skin. (Butter) Scrape out a dime sized amount of butter and rub between palms. Run your fingers through your beard. Apply before bed.
Safety Note: Test on skin for allergies. If irritation occurs, discontinue use immediately.