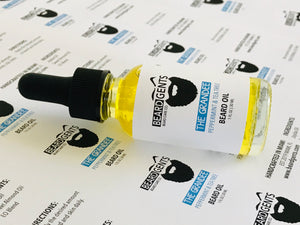 Gran·​dee: A man of elevated rank. The word originates from Medieval Spain and Portugal (meaning "great.") This cool calming blend is brought together with fresh mint and the energizing and invigorating aroma of tea tree. The Grandee contains the highest-quality ingredients including rich sweet almond oil and nourishing jojoba oil.
Blend: 100% EO (Essential Oils)
Scent Duration: 3-4 Hours
Strength: Mild
Size: 1oz Bottle
Directions: Drop the desired amount of oil into palm. Apply to beard and skin.
Safety Note: Test on skin for allergies. If irritation occurs, discontinue use immediately.