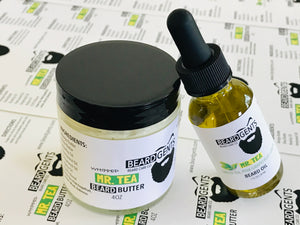 Mr. Tea will energize the body, excite the senses, and revive the spirit. This blend features green tea, pink grapefruit, and lemon, with musk and oakmoss making it a masculine scent. Blended using the finest carrier oils – Baobab Oil, Hempseed Oil, Grapeseed Oil, and Jojoba Oil.
Mr. Tea air-whipped Beard Butter is deliciously rich and nourishing with skin loving ingredients like organic raw mango butter, and organic unrefined shea butter whipped up light and fluffy. Your skin and beard will soak this right up!
Size: 1oz Beard Oil, 4oz Beard Butter
Directions: Scrape out a dime sized amount of butter and rub between palms. Run your fingers through your beard.
Safety Note: Test on skin for allergies. If irritation occurs, discontinue use immediately.