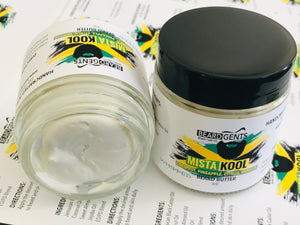 A sandy beach on a tropical island is your vacation destination! Relax, soak up the sun and enjoy the delight found in this blend of creamy coconut, juicy pineapple, sweet citrus, and warm vanilla.
Made with a unique combination of organic raw mango butter and organic unrefined shea butter, with all of the same nutrient rich carrier oils found in our Mista Kool blend – Jamaican Black Castor Oil, Coconut Oil, Sweet Almond Oil, and Jojoba Oil.
Mista Kool butter will serve as a deep conditioner and a decadent moisturizer that softens, smooths and hydrates both your beard and skin.
Size: 4oz Jar
Directions: Scrape out a dime sized amount of butter and rub between palms. Run your fingers through your beard.
Safety Note: Test on skin for allergies. If irritation occurs, discontinue use immediately.