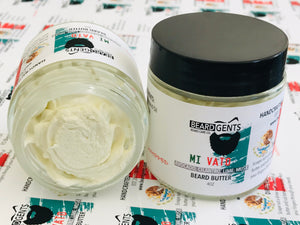 Mexico's rich history and varied culture has served as an inspiration to create Mi Vato, our 3rd Culture Classic! Feed your senses to the warmth and unique style of SoCal Mexico!

An original scent profile of creamy avocado, fresh chopped cilantro, highlighted by citrus notes, lifted by light musk. Blended with the finest carrier oils: Sweet Almond oil, Coconut oil, Castor oil, and Argan oil.
Made with a unique combination of organic raw mango butter, and organic unrefined shea butter. Recommended as a deep conditioning treatment, our butter is light, creamy and easily absorbs into the skin.
Size: 4oz Jar

Directions: Scrape out a dime sized amount of butter and rub between palms. Run your fingers through your beard.

Safety Note: Test on skin for allergies. If irritation occurs, discontinue use immediately.