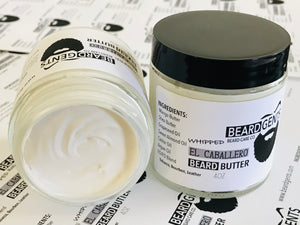 El Caballero (The Gentleman) is a sophisticated masculine scent with a spicy, smoky blend of fresh tobacco and cedarwood, blushed rose petals, tonka bean and oak aged bourbon with undertones of fresh tanned leather.
Artfully blended and infused with the finest carrier oils including, Grapeseed Oil, Sweet Almond Oil, Jamaican Black Castor Oil, and Argan Oil.
El Caballero air-whipped beard butter will serve as a deep conditioner and a decadent moisturizer that softens, smooths and hydrates both your beard and skin. Made with a unique combination of organic raw mango butter, and organic unrefined shea butter.
Size: 4oz Jar
Directions: Scrape out a dime sized amount of butter and rub between palms. Run your fingers through your beard.
Safety Note: Test on skin for allergies. If irritation occurs, discontinue use immediately.