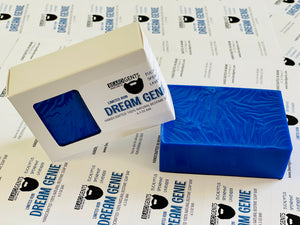 We are confident to say that Dream Genie is the best bedtime formula on the market and we are proud to be the first in our industry to bring such products to market. We are excited to introduce the Dream Genie soap bar!

A specialty bedtime soap bar reputed to purify, cleanse, and boost immunity! Dream Genie is air-way clearing, mood-boosting, refreshing and relaxing all at once. Dream Genie's scent profile is a masterpiece, which includes a relaxing and calming blend of Eucalyptus, Spearmint and Lavender helping you achieve a good nights rest.
Made from all-natural ingredients, buttermilk, oatmeal, calendula extract, and real natural honey for exemplary moisturizing benefits.
Dream Genie is what's missing in your bedtime routine and our brand new Dream Genie soap bar just took your nightly regimen to another level! This is a special limited run. Available only while supplies last.
All of our all-natural, handcrafted soap bars can be used on your hair, face, beard and body. Designed for Men, Women and Children.

Size: 6.5 oz Bar.

Bar Depth: 1.25"   Bar Length: 2.5"   Bar Width: 3.5"

Ingredients: Baby Buttermilk, Honey, Oatmeal, Calendula Flower Extract, Blue Mica Powder, EO/FO Blend (Essential/Fragrance)
Directions: Massage your wet beard, face and body with this bar until a creamy lather is produced. Work the lather thoroughly into the beard and skin. Rinse and enjoy.

Safety Note: Test on skin for allergies. If irritation occurs, discontinue use immediately.