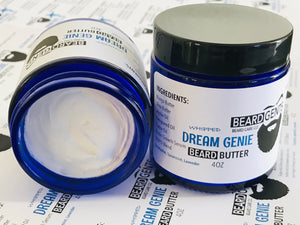 Travel to Dreamland to visit the Dream Genie! A brand new specialty bedtime formula reputed to purify, cleanse, clarify, and boost immunity! An invigorating combination of airway-clearing eucalyptus, mood-boosting spearmint, and lusciously-relaxing lavender.
Dream Genie Beard Butter will serve as a deep conditioner and a decadent moisturizer that will soften and hydrate both your beard and skin.
Made with a unique combination of organic raw mango butter, organic unrefined shea butter, and a nutrient rich carrier blend such as: Jojoba oil, Hempseed oil, Castor oil, and Biotin Growth Serum, which will assist with beard growth, improving overall beard quality, including thickness and shine. Wake the Genie in you!
Size: 4oz Jar

Directions: Scrape out a dime sized amount of butter and rub between palms. Run your fingers through your beard. Apply before bed.

Safety Note: Test on skin for allergies. If irritation occurs, discontinue use immediately.