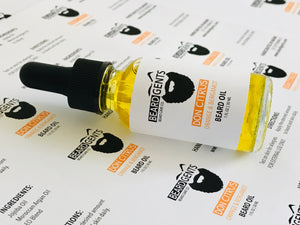 The "Don" is the boss! A heavenly citrus spring/summer scent that is motivating and refreshing. Experience a burst of citrusy notes of bergamot and sweet orange, infused with argan oil sourced straight from Morocco and the luxurious "liquid gold," known as jojoba oil.
Blend: 100% EO (Essential Oils)
Scent Duration: 3-4 Hours
Strength: Mild
Size: 1oz Bottle
Directions: Drop the desired amount of oil into palm. Apply to beard and skin.
Safety Note: Test on skin for allergies. If irritation occurs, discontinue use immediately.